Vernon ISD honored 6 Lion Legends who graduated from VHS and went on to play professional football during a halftime ceremony of Friday's game against Burkburnett. Honored were: the late Bill Herchman, who was represented by his four children; Mac Percival, who was represented by classmate and friend Jim Pennington; Lawrence Gaines, who was represented by his sister, Sherry Johnson; James Dixon; Edmond "Clyde" Gates; and Aston Whiteside.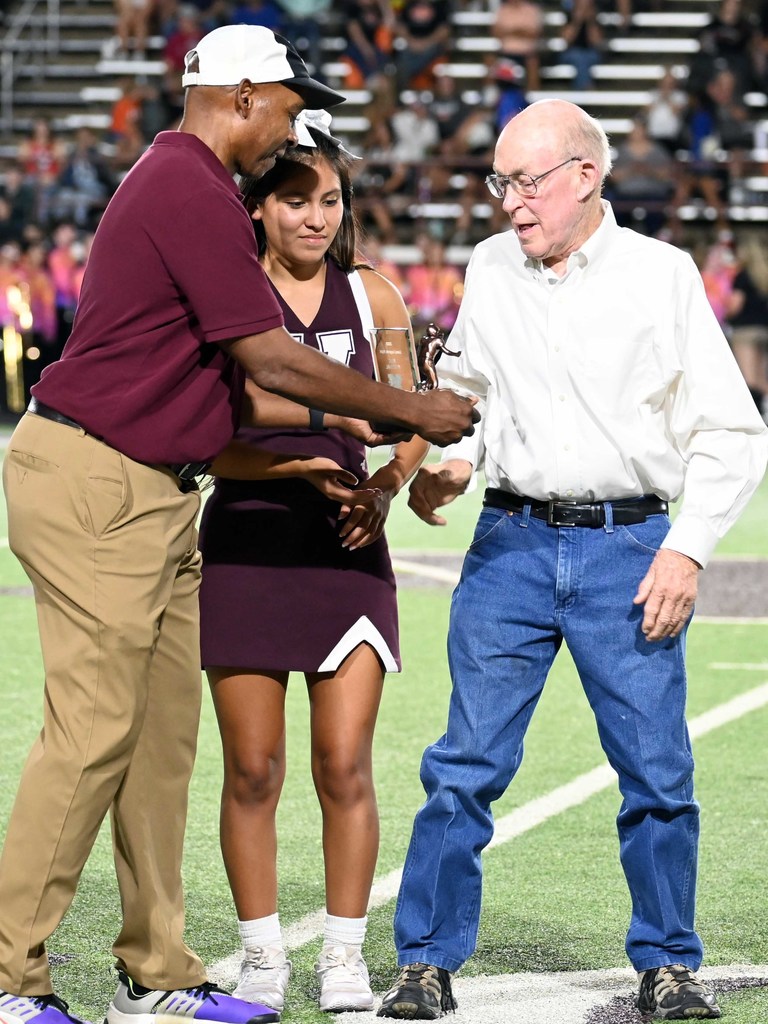 Come on out tonight and cheer on the Lady Lions!!
Monday afternoon the VISD Food Service Department held it's monthly meeting and staff were honored for the month of August. Bertha Reyna, who works at McCord, was named Employee of the Month for August and received a certificate and goodies from Department Manager Skylar Boatman. Receive Special Achievement recognition at each campus were: Emma Ochoa, McCord; Rachel Quintero, Central; Dorothy Mathis, Shive; Louisa Zambrano, Middle School; and Sherry Johnson, High School. Thank you ladies for all of your hard work to ensure our students receive good and nutritious meals.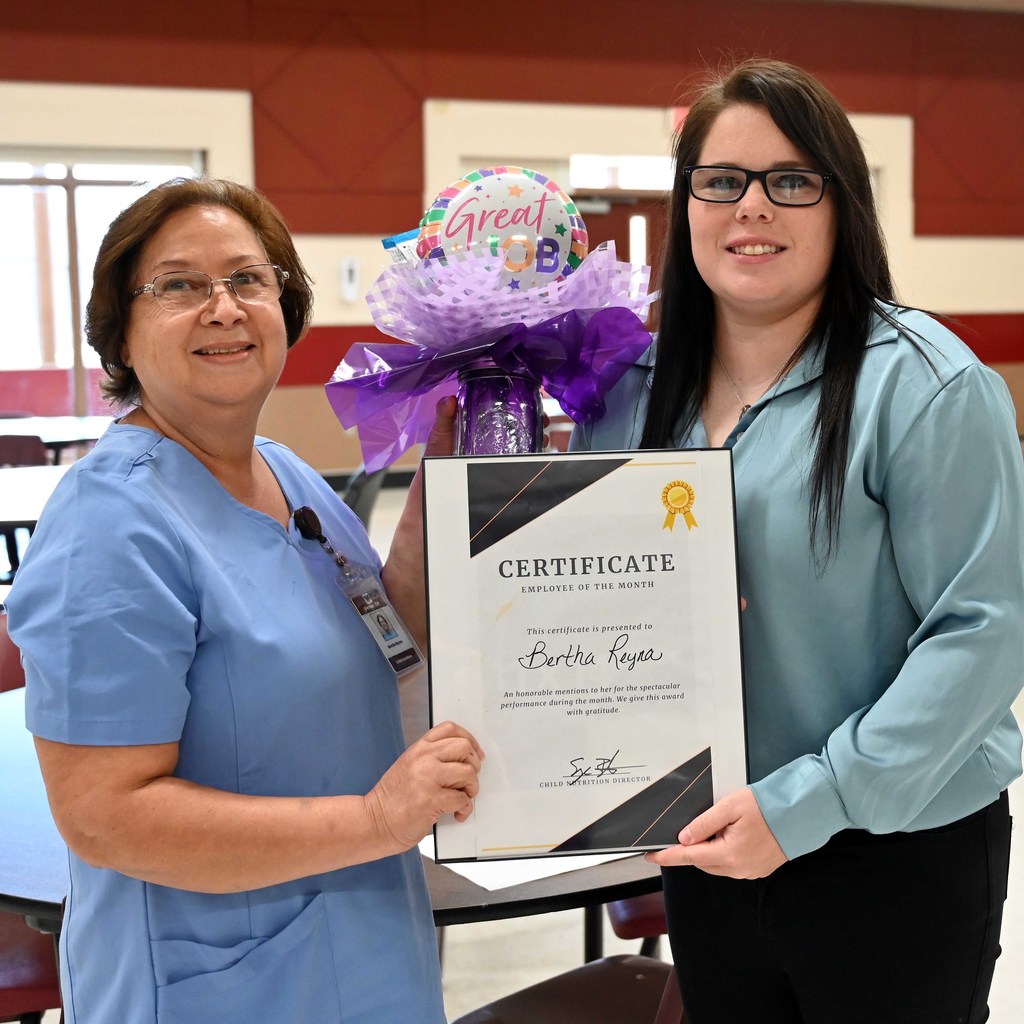 The VHS tennis team travels to Burk today for a BIG district match. Good Luck Lions!!! Wrap up that district crown!!!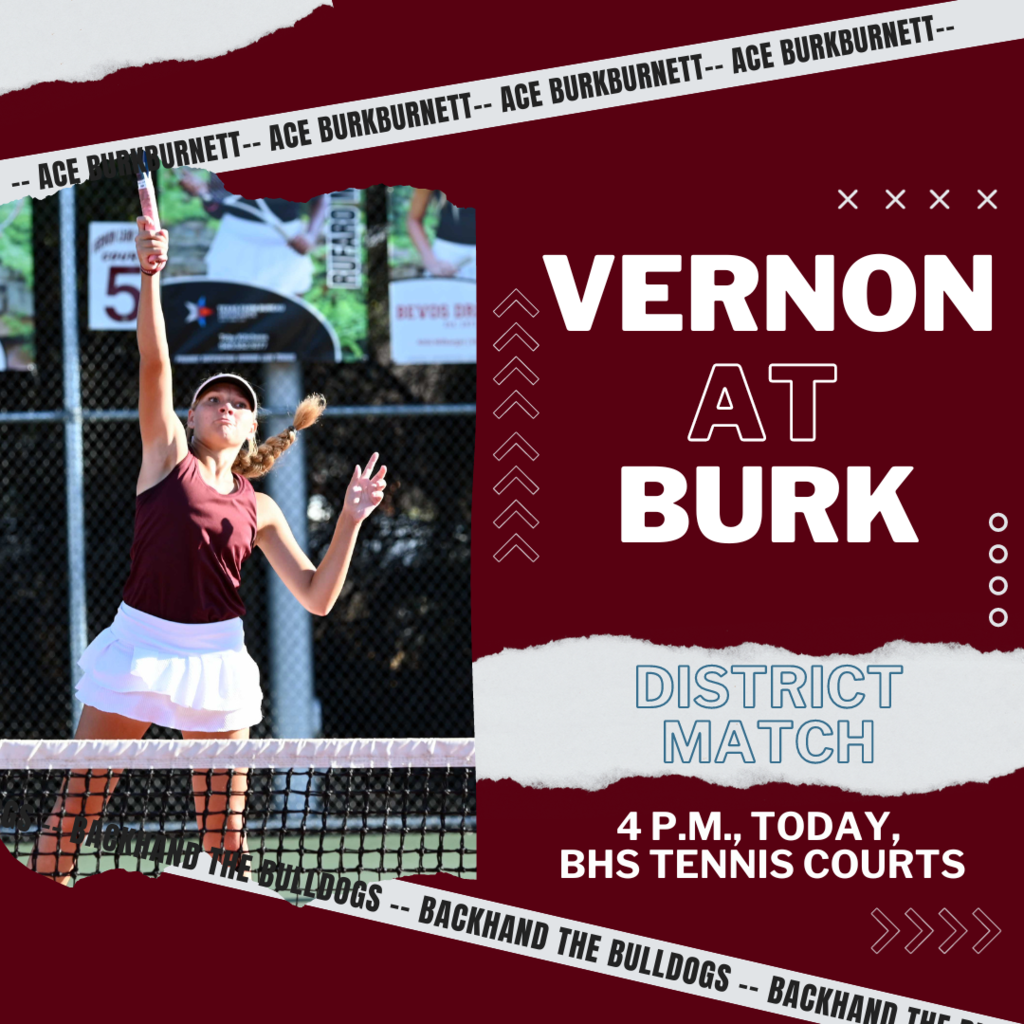 Lady Lions are at home today for a District 7-3A battle with the Lady Rabbits from Bowie.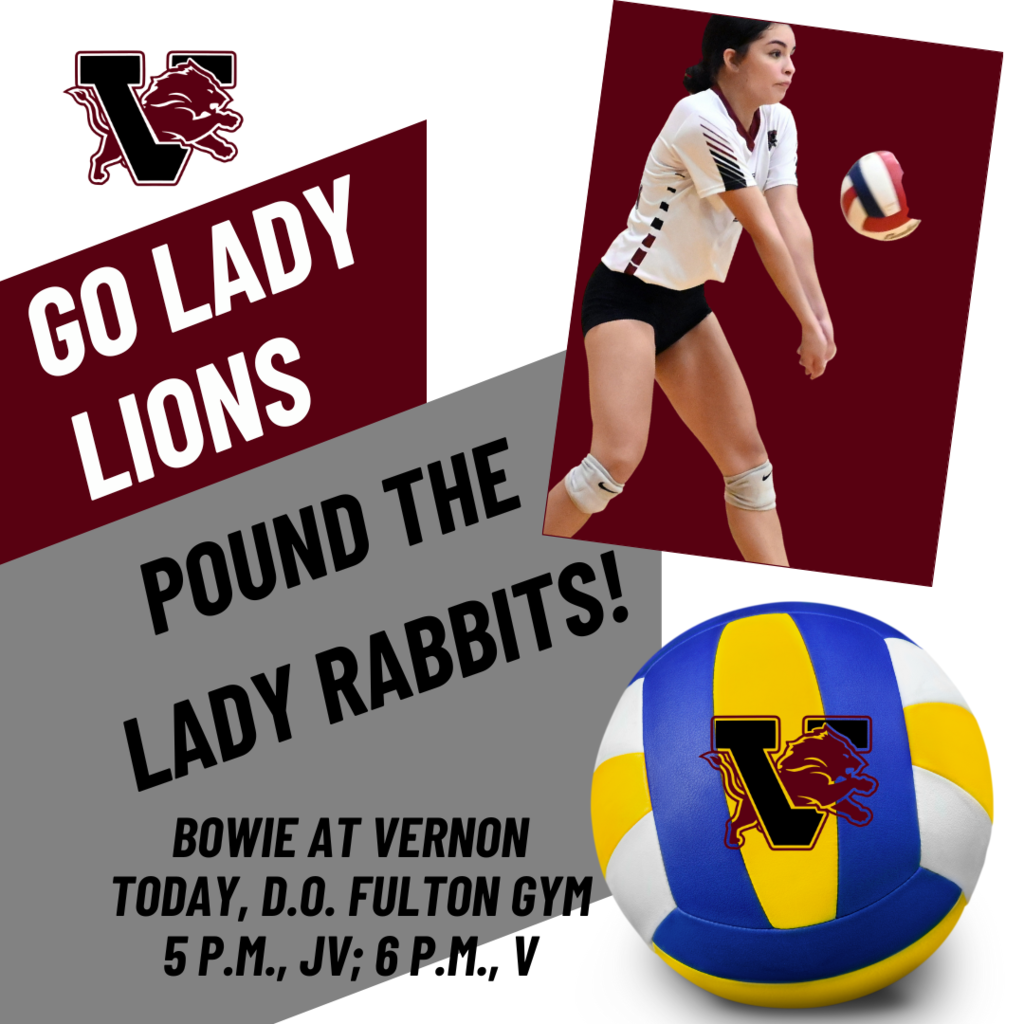 Scenes from last Friday's pep rally leading up to the Lions' game against Burkburnett. D.O. Fulton Gym was filled with that Lion Spirit and it carried over to the football field, as the Lions claimed a 42-7 victory.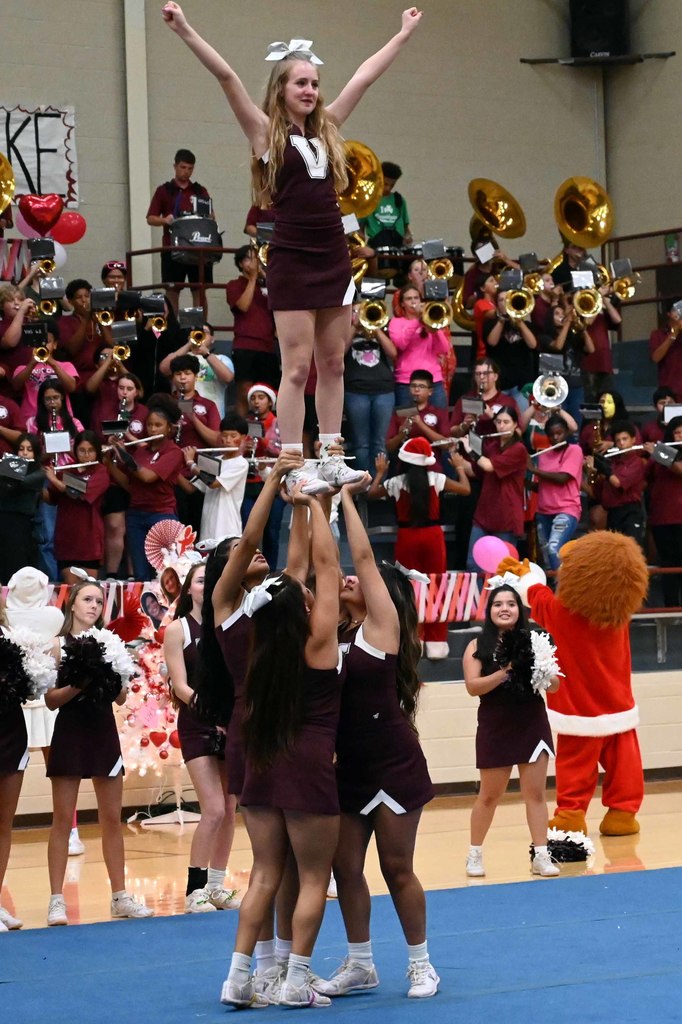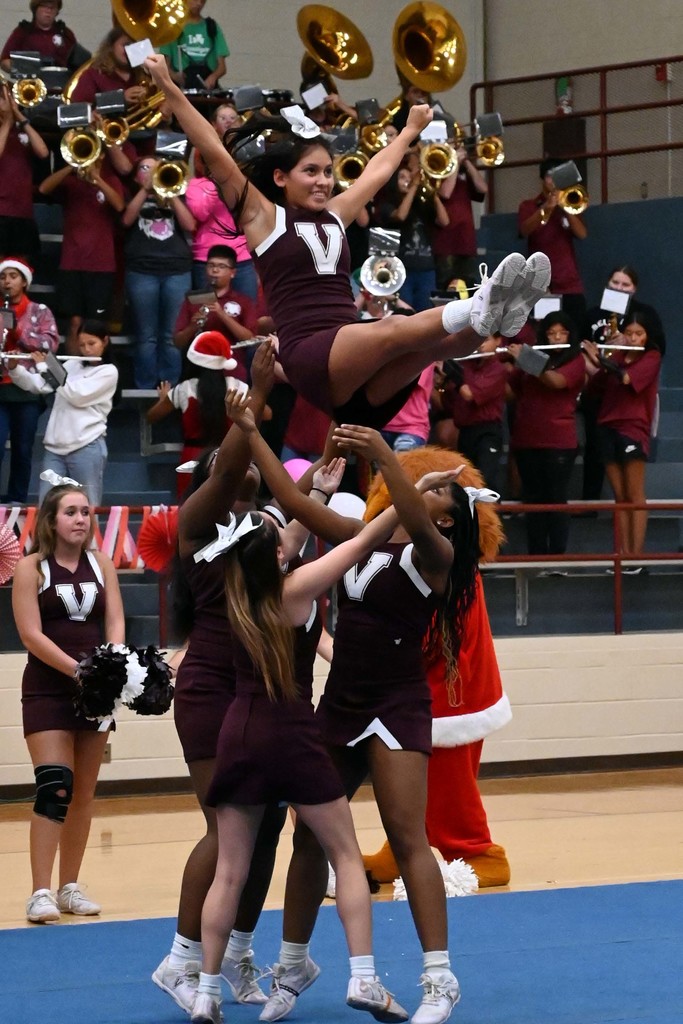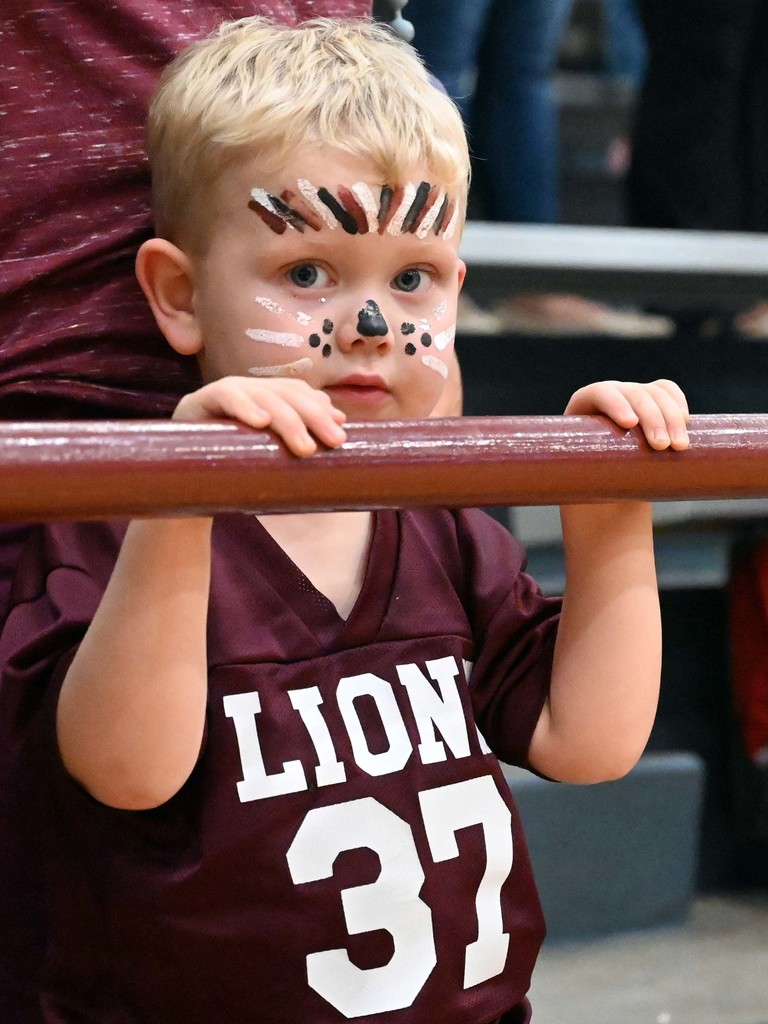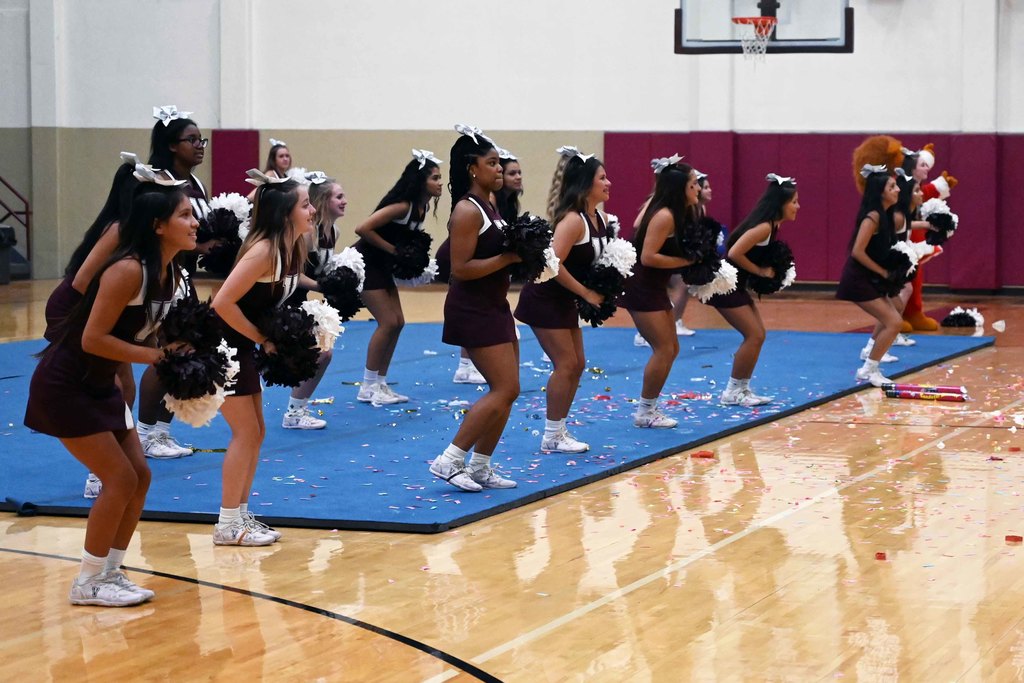 The Vernon Lions defeated the Burkburnett Bulldogs, 42-7, Friday night to close out their non-district schedule with a perfect 5-0 record. Earning special honors for their performance on the field were: Co-Defensive MVP -- Shyne Rodriguez & Jevon Fanner; Tri-Offensive MVP -- Kale Sherrill, Tru Gipson & Adarius Williams; Boss Hog -- Christian Gallegos; Big Stick -- Kameron Plyler; Co-Ball Hawks -- Ty Scott & Tru Gipson; Special Teams MVP -- Angel Serrato; Lion Heart -- Javi Lopez.
All Vernon High School and Vernon Middle School, as well as students from Northside and Chillicothe were at the Wilbarger Auditorium this morning for a Dangers of Vaping program presented by the Texas A&M AgriLife Extension Service. The program included a discussion on the dangers of alcohol and drugs as well.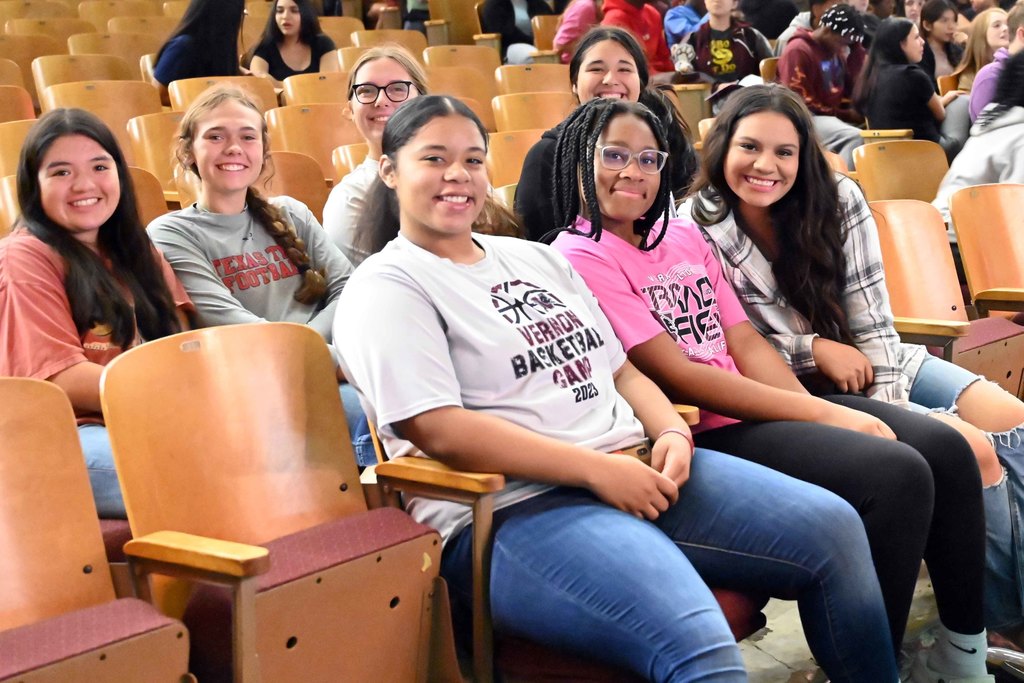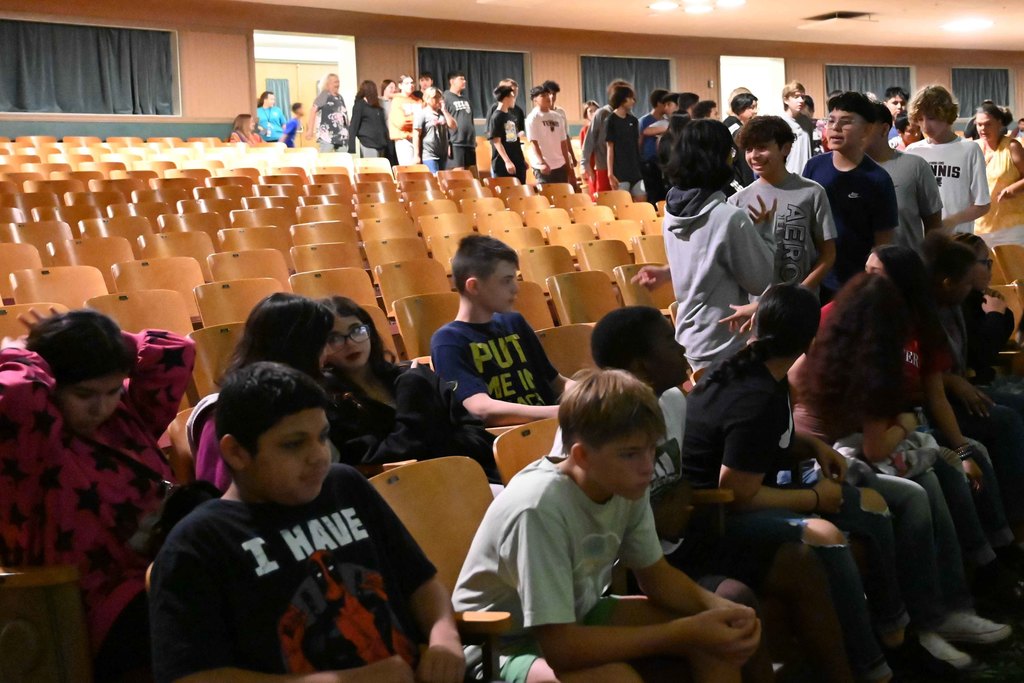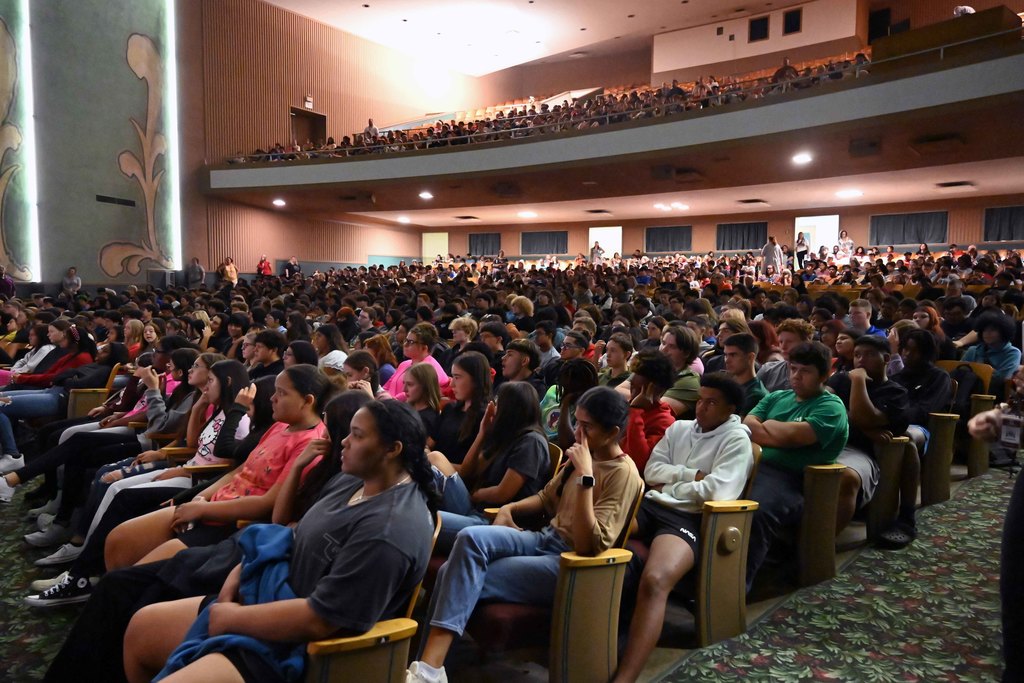 The Lions may be open this week, but that doesn't mean there will be no football action at Leo Brittain Field at Lion Stadium! It's Powderpuff Football Week!!!! Head out to the stadium Thursday evening and cheer on the girls as they take the field.
To all my Vernon Family: What a night Friday was. Our Vernon Lions likely put together their best performance of the year against the Burkburnett Bulldogs with a dominating performance. Winning will always be important to me yet how we approach and play the game matters significantly to me as well. Our kids showed up and played a very clean and disciplined game last night that reflects well on those kids and this entire community. Perhaps the real story of last night is with the band kids. They too submitted their best performance of the year. Due to lack of time remaining at halftime, I personally went to the band kids and shared with them the thought of us establishing a 5th quarter after the game for them to play. I was initially concerned with them not having fan support but a simple request for the football team, the cheerleaders, the students, and for the fans to remain after the contest to support them was easily obliged. This, I am learning is typical Vernon and I am so proud to be part of this community. I am very much aware of the disappointment of the individuals watching the stream from home not being able to watch the 5th quarter due to the stream being shut off. The termination of the stream is set before the game to stop when the clock hits 0:00. We will work to determine if there is a way around that as the 5th quarter had some unintended benefits. This however, should not diminish the obvious hard work of the kids to add so much diversity to their show since the last time they played. Much like the Colorado Buffaloes are now saying: We coming too!!!!

Thursday night Mayor Pam Goslin, along with Angels Home Health Care and North Texas State Hospital hosted the team meal for the Lions football players, trainers, managers and cheerleaders. Along with the delicious burgers, there were motivational speeches and fun games.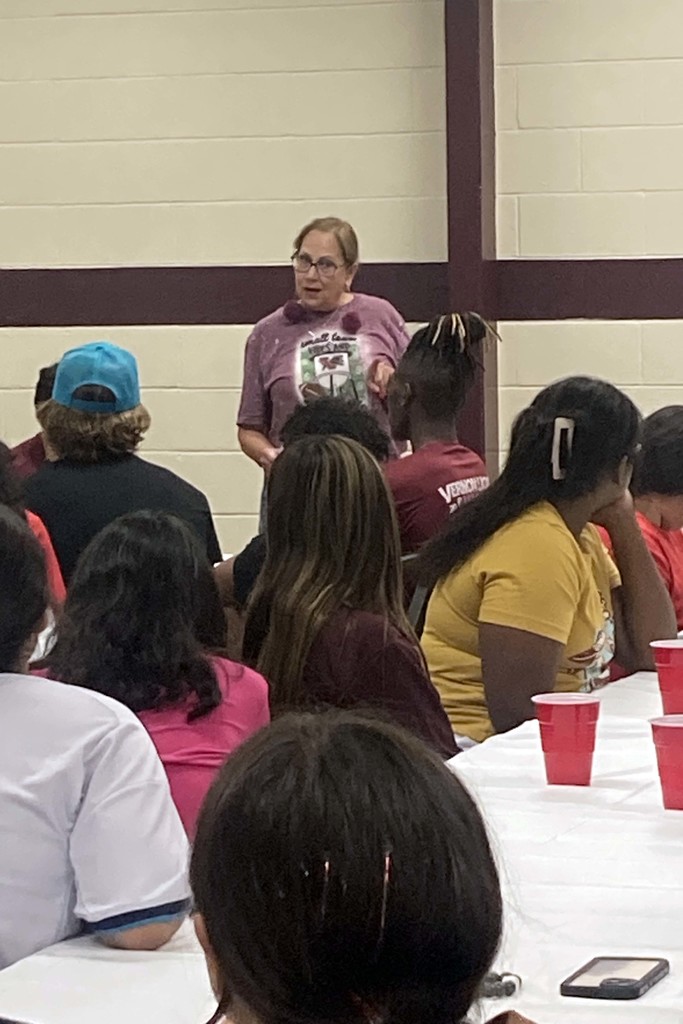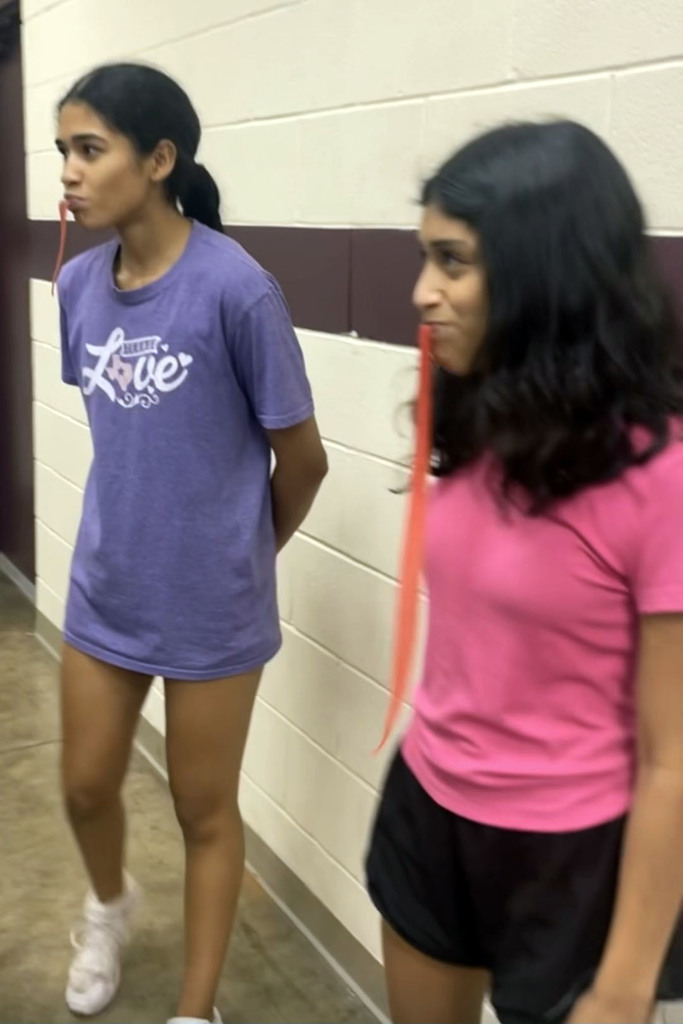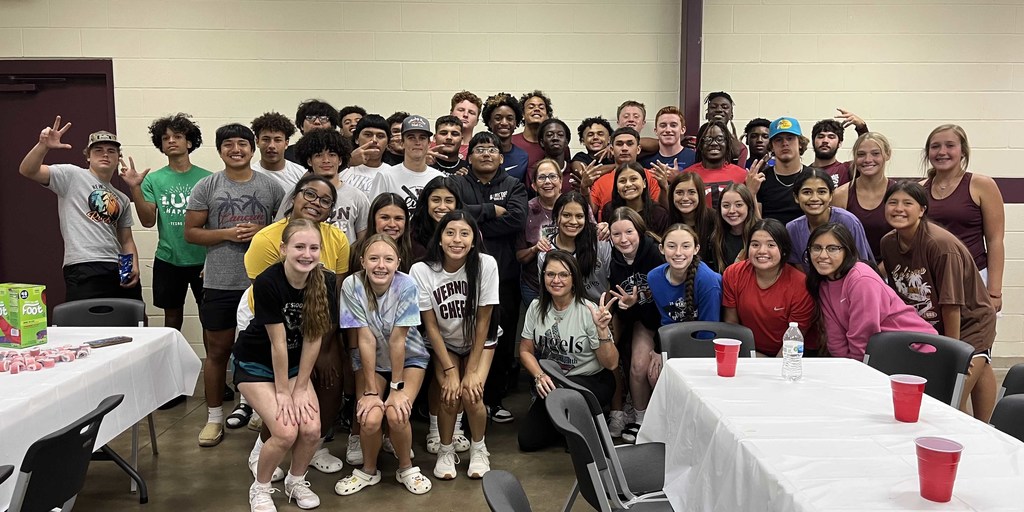 Our Lady Lions return home this evening for a District 7-3A battle with the Iowa Park Lady Hawks. Varsity starts at 5 p.m. Come On Lady Lions -- Pluck the Lady Hawks!!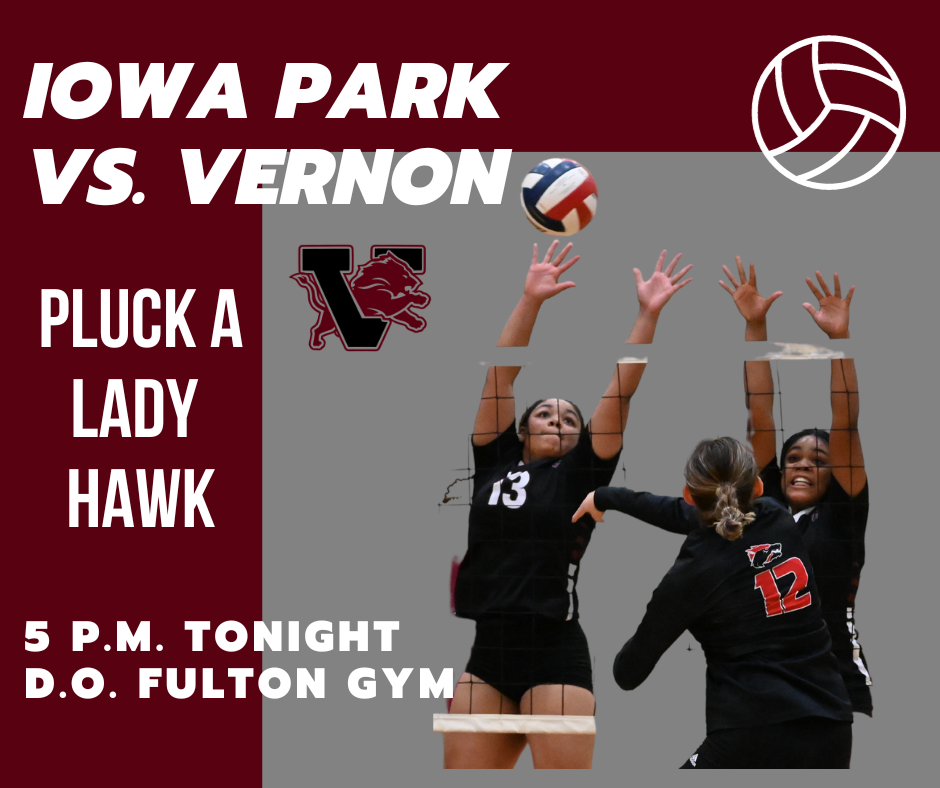 For this Spirit Friday the theme was "Tis The Season" with each class designated a holiday. 9th grade was Valentine's Day; 10th grade was St. Patrick's Day; 11th grade was Easter; and 12th grade was Christmas. It looks like the students definitely got into the spirit of the day!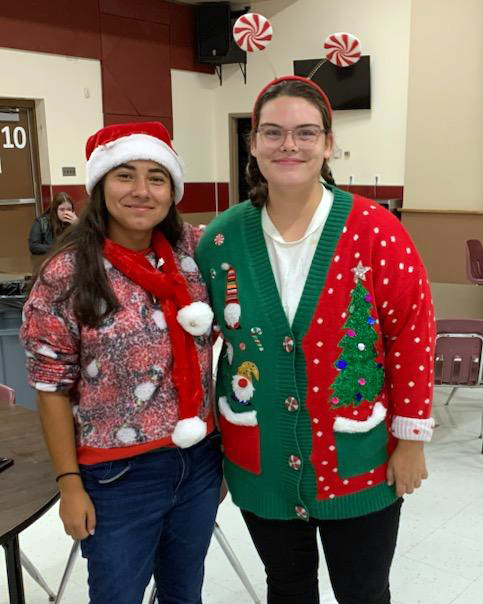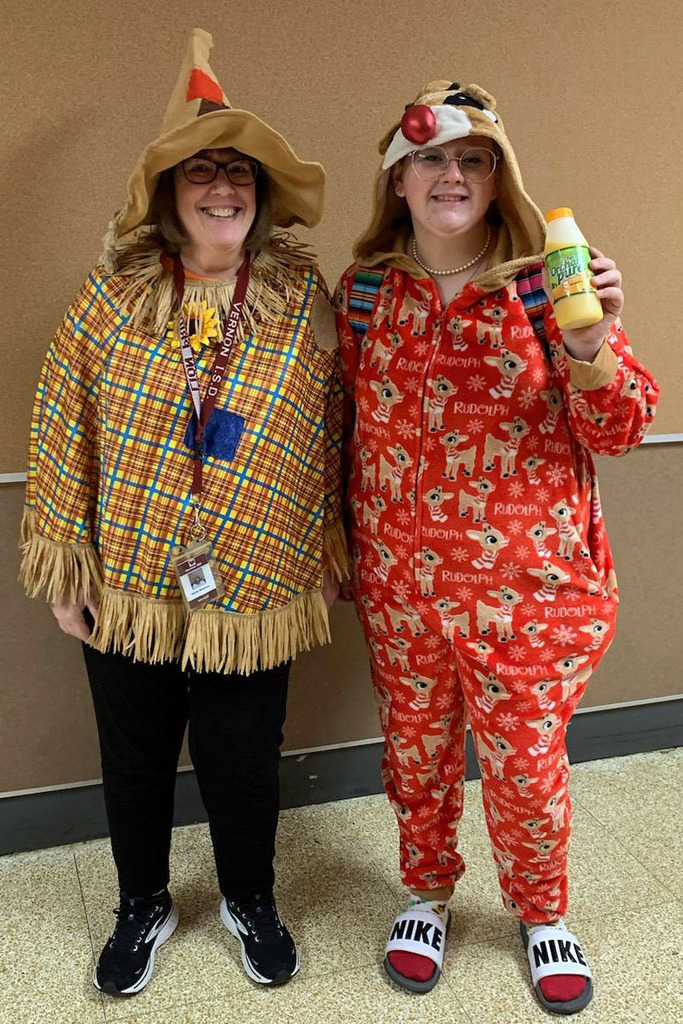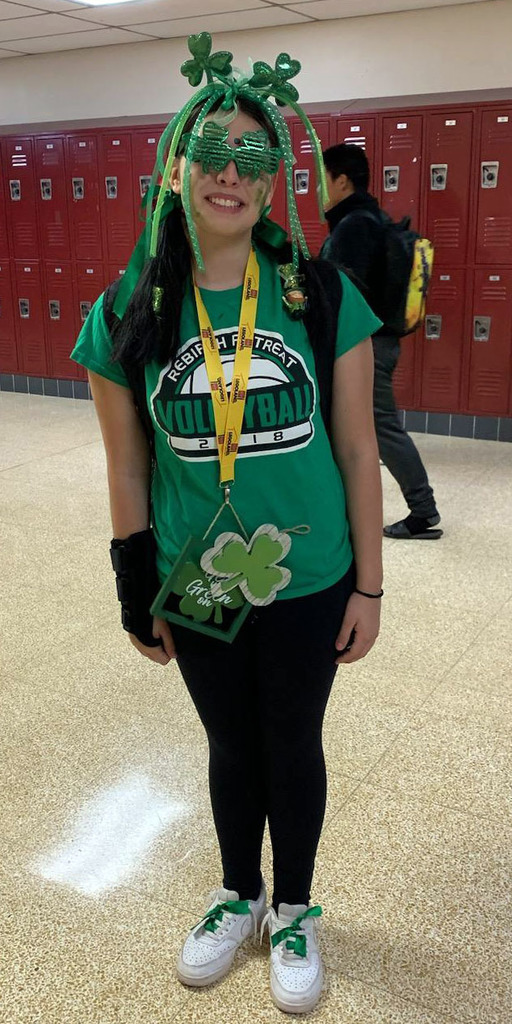 Our Lions close out the non-district portion of their schedule tonight at home against Burkburnett. At halftime, we will have our Lions Legends ceremony. Hey Lions -- Go Collar the Bulldogs!!!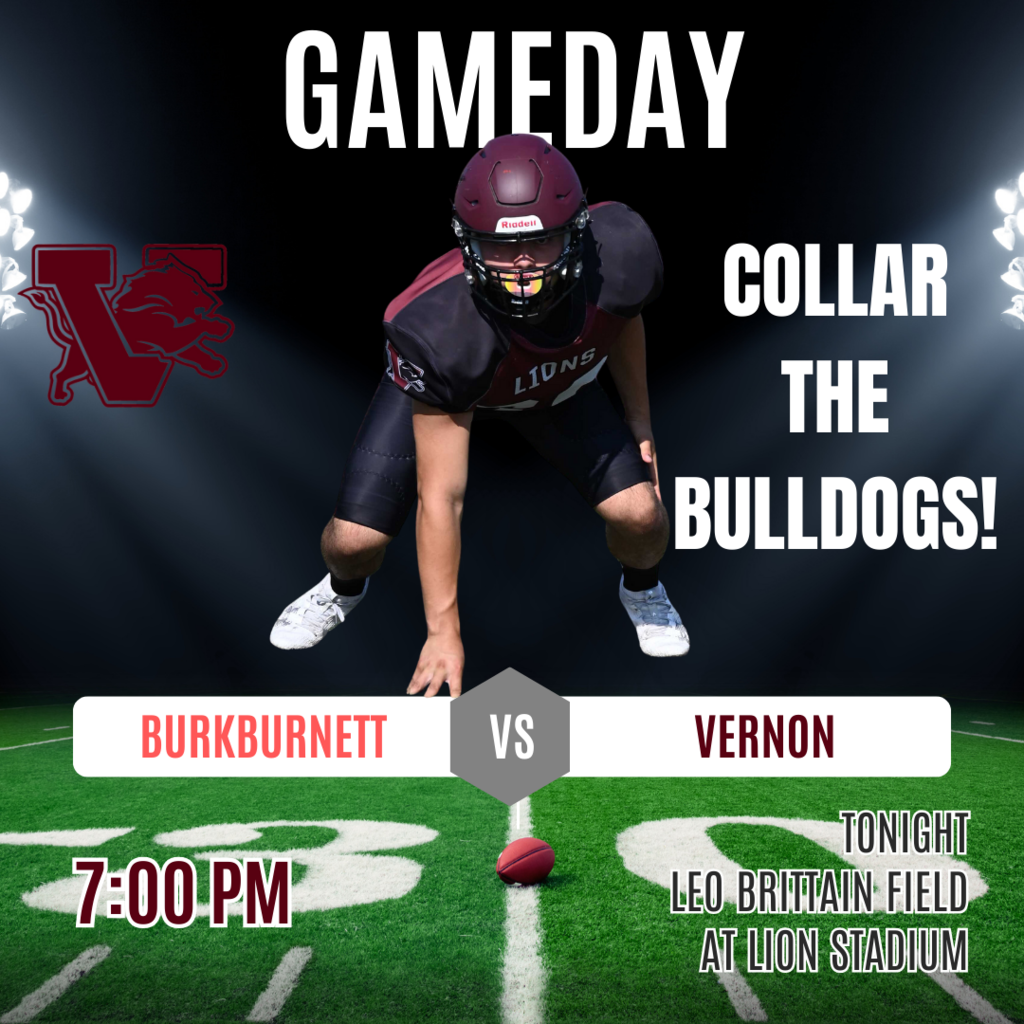 Head on out to D.O. Fulton Gym tomorrow afternoon and show your Lion Spirit at the pep rally leading up to the Lions' last non-district game of the season.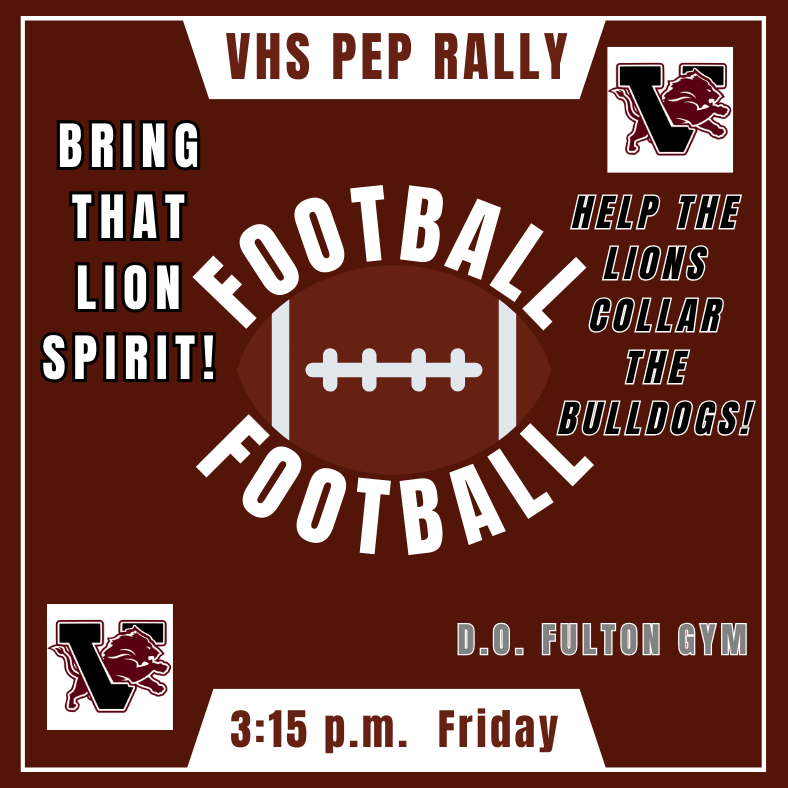 Our VHS tennis team is at home today taking on Holliday in a district match. Head out to the courts at 4 p.m. and support our Lion netters!!
As they have done since 2002, the Boys & Girls Club of Vernon will be hosting the Lions Den this year. They will hold their first Lions Den of the season after this Friday's game. Check out the info on the flyer. It sounds like it's going to be a blast. Plus, it is all FREE for the students.
Under the McKinney-Vento Homeless Assistance Act, schools must identify children and youth in homeless situations and provide appropriate services including immediate enrollment in school and participation in the school lunch program. The term "homeless children and youth" means individuals who lack a fixed, regular, and adequate nighttime residence and includes children and youths who are sharing the housing of others due to loss of housing or economic hardship; are living in motels, trailer parks or camping grounds due to the lack of alternative accommodations; are living in emergency shelters; are abandoned in hospitals; or are awaiting foster care placement. Should you or your child find yourself in these circumstances, even temporarily, there are services to help. Nicole Cameron, is the McKinney Vento liaison for the district and would be able to help get you connected to resources you may need. You can contact her at (940) 553-1900 ext. 2248 or at
nicole.cameron@visdtx.org
. You can click this link to watch a short video on the McKinney-Vento Program.
The Lions are hosting the Bulldogs from Burkburnett Friday night at Leo Brittain Field at Lion Stadium in their final non-district game of the season. Tickets must be purchased online. To purchase tickets, go to
https://www.vernonisd.org/page/ticket-purchases
***PLEASE DO NOT click on links in comments concerning tickets. No one has tickets for sale for this game. Those comments are probably spam.***

There will be a special ceremony at halftime of Vernon's game Friday night against Burkburnett, as six VHS graduates who went on to play professional football will be honored and recognized. Tickets for the game may be purchased by going to
https://www.vernonisd.org/page/ticket-purchases